Final Fantasy 1–6 Pixel Remasters
1.

Replaying a legendary series

Like many millennials, I grew up loving Final Fantasy. My family didn't own any of them, sadly, so I would play the earlier editions whenever I could during visits with our extended family who did. In `98, I hauled-ass, mowing lawns and painting fences all summer, to save up to buy a Playstation 1 and Final Fantasy 7. Worth it!

Recently, SquareEnix (Squeenix?) released new versions of the first six games, known as "pixel remasters." They rebuilt each game on the same Unity-based engine, with new sprites, updated music, and modern particle effects. Moreover, they've added a few quality-of-life features that make certain aspects of the game less tedious.

I feel that they've done a great job modernising these classic games and recreating the feeling I had when I first played them as a kid. The Pixel Remasters are certainly now my favourite editions of the first 6 games.
2.

Proton

I played these games via Steam, using Proton 7.0-1. They ran almost perfectly (see below) out of the box and I expect any recent version of Proton would work fine.
2.1.

Optional Fixes
2.1.1.

Low FPS with Nvidia GPU

I played these games with a "GeForce RTX 2080 Ti" and even though they're only remastered Nintendo games, they ran at about 30-40 FPS. Yikes! I'm not sure if this is a universal problem or specific to Nvidia. Thankfully I found a fix online that perfectly fixes the problem: in Steam, set the games' launch options to PROTON_USE_WINED3D=1 %command%.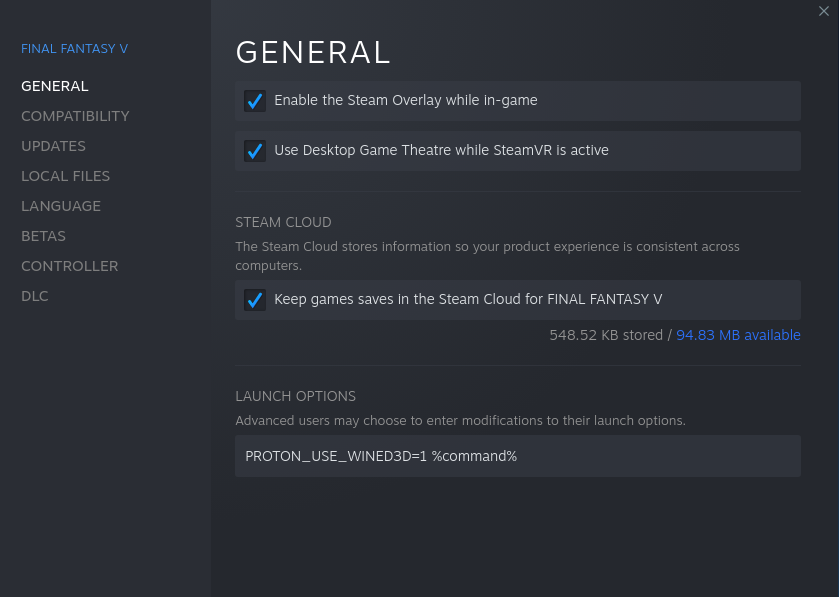 2.1.2.

Replace the game's font with a classic version

For some reason, the font they chose for the Pixel Remasters is somewhat disgusting. Like all Nintendo games of that era, the first 6 Final Fantasy games uses an exceptionally "pixely" font. Despite these games being a "pixel remaster," the font they chose for all 6 games is horrifyingly anti-aliased. Also, in my opinion, too narrow.

Whether you like the new font is purely a matter of taste. You can check out the comparison image I made below, to decide how you feel about it. If you prefer a more blocky font, someone out there in internet-land has recreated the font used in Final Fantasy 6 which can be dropped in as a replacement. You can find this font everywhere online, but here's another mirror: snes-ff6-font.zip.

To replace the default font, you need to extract this .zip file into your game's StreamingAssets/ directory. The location of this directory is different for each of the six games. The pattern is:

~/.local/share/Steam/steamapps/common/<FF#> PR/<FF#>_Data/StreamingAssets

For each game, replace <FF#> with one of the following:
FF1: FINAL FANTASY
FF2: FINAL FANTASY II
FF3: FINAL FANTASY III
FF4: FINAL FANTASY IV
FF5: FINAL FANTASY V
FF6: FINAL FANTASY VI
If you later decide you want the default font back, Steam's "Verify integrity of game files…" feature will restore it.